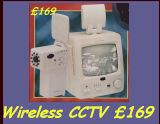 £99


Hi-Tech Pan and Tilt cctv Camera
FEATURES:


7 cameras can operate from one remote control
Pan 320 degree and tilt 90 degree using remote control
Auto pan 16 presets
High impact Polycarboonate cover
Serial Communication RS-485
Easy to Install
Model
PT SM
PT HM
PT SC
PT HC
Mono
1/3 inch Sony CCD
1/3 inch Sony CCD
Colour
1/4 inch Sony CCD
1/3 inch Sony Ex CCD
Power Supply
12V DC 100mA
12V DC 100mA
12V DC 85mA
12V DC 90mA
Resolution
420 TVL
600 TVL
380-470 Enhanced
470-580 Enhanced
Sensitivity
0.05 Lux F2.0
0.05 Lux F2.0
0.5 Lux F1.2
0.3 Lux F1.2
Lens
3.6mm 98 degree
3.6mm 98 degree
3.6mm 68 degree
3.6mm 98 degree
Dims.
Dia: 107mm x H 111mm (Weight: 400g) Pan Speed: 32 deg / sec , Tilt Speed: 20 deg / sec, 12V DC

build_table('cctvstuff',array('cspptsm','csppthm','cspptsc','cspptsdn','csppthc3','csprc','csprs485')); ?>
INFORMATION:


This Hi-tech pan and tilt dome camera is easy to install and user friendly.
Allows the user complete freedom of view.
One remote control can control up to 7 dome cameras. Electronically driven speed motor giving full pan and tilt.
Lens options: 2.45, 3.2, 4.0, 6.0, 8.0, 12mm
Sony ex-view monochrome and colour series available.