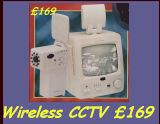 £99


Worlds Smallest High Impact Vandal Proof Camera
FEATURES:


Machined from a solid block of aluminium
12mm Polycarbonate window
Waterproof IP68 Rating
Stainless Steel bracket & tamper proof screws
Sony ex-view series available
Mirror image (option) ideal as rear view camera
New DC auto iris fixed lens (option) ideal for any harsh environment
Model
100 SM
100 XM
100 HM
100 SC
100 HC
Mono
1/3 inch Sony CCD
1/3 inch Sony Ex-View CCD
1/3 inch Sony CCD
Colour
1/4 inch Sony CCD
1/3 inch Sony Ex CCD
Power Supply
12V DC 100mA
12V DC 100mA
12V DC 100mA
12V DC 85mA
12V DC 90mA
Resolution
420 TVL
400 TVL
600 TVL
380-470 Enhanced
470-580 Enhanced
Sensitivity
0.05 Lux F2.0
0.003 Lux F1.2
0.05 Lux F2.0
0.5 Lux F1.2
0.3 Lux F1.2
Lens
3.6mm 98 degree
3.6mm 98 degree
3.6mm 98 degree
3.6mm 68 degree
3.6mm 98 degree
Dims.
Dia: 70mm x D 96mm (825 9)

build_table('cctvstuff',array('csp100sm','csp100xm','csp100hm','csp100sc','csp100sdn','csp100hc')); ?>
INFORMATION:


CSP have manufactured the high impact canon housing from a solid block of marine grade aluminium.
Fitted with a 12mm polycarbonate window making it virtually indestructible
All camera come complete with 1.8 metre BNC / Power Cable, stainless steel bracket for wall or ceiling mounting and Tamper proof screws.
Lens options: 4.0, 6.0, 8.0, 12mm
Small but VERY tough camera.
High quality camera at low cost.